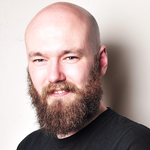 Andrew Bolster
Senior R&D Manager (Data Science) at Synopsys Software Integrity Group and Treasurer at Farset Labs & Bsides Belfast
So today is my last official day in the University of Liverpool office. Time for a bit of reflection.
This is a self indulgent "For the sake of history and my bad memory" post so feel free to skip it.
It's just over two years since I left Belfast, and in those two years, life got weird(er).
TL;DR for my own benefit in years to come:
Worked for DSTL for a while on autonomous maritime systems
Went to the Bournemouth Airshow
Studied FPGA programming at Cambridge
Coordinated a Raspberry Pi Outreach programme between Farset Labs, W5, and Digital Circle (along with the inimitable other Andrew; Mulholland)
Spoke at TEDxBelfast and the All Island Innovation Conference
Built a green field network research lab from scratch (it's still not finished)
Joined the Liverbeards
Contributed to a joint project using atomic clocks for submarine location
Went to GDC in San Francisco as part of an InvestNI organised Trade Mission
Visited the Microsoft and Google campuses in SF
Visited Noisebridge (and didn't get involved in any drama…)
Presented some research at Stanford
Played with the Intel Galileo
Went to Prague
Got my first paper rejection
Met the Queen, Prince Phillip, the Duke of York and a load of interesting entrepreneurs at Buckingham Palace
Participated in VC negotiations and biz dev for a small tech firm
Spoke at Ignite Liverpool (The video doesn't do the animations justice…#cringe)
Drank my way around Manchester with a load of beards
Secured funding for a Farset Labs Raspberry Jam outreach programme
Saw Dylan Moran Live
Presented at a defence conference
Attended a death metal gig in a suit
Lost my passport and poster on the way to present at another defence conference…
Took part in the Worlds Biggest Catwalk
Presented at TrustCom in Helsinki
Played glow-in-the-dark-haunted-house-mini-golf as part of what goes down in history as the most random night of my life…
Was named Liverbeard "Beard of the Month" (well, I was leaving, they had to give me it sometime… :p )
Participated in a mayoral discussion on smart cities
Got the most unheard of submission extension
Finally got rid of a collection of "joke" twitter accounts I'd wired up to IFTTT ages ago and forgotten about… (Sorry QUB…)
Got a trim from barber-to-the-stars, Cutthroat Pete
Entered and won my first "food challenge"; a hot-wings challenge (and didn't cry about it afterwards), also earning my second consecutive Liverbeard-of-the-month-status.
Discovered far too many awesome bars in Liverpool
Made some amazing friends I won't be able to get rid of for the rest of my days
Managed too many Undergrad, MSc and MEng projects
That'll do.
Thanks Liverpool! You've been a blast and I'll be back soon enough.
Belfast, prepare yourself.