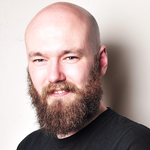 Andrew Bolster
Senior R&D Manager (Data Science) at Synopsys Software Integrity Group and Treasurer at Farset Labs & Bsides Belfast

This is it; my first convention! Yes folks, I'm going to be attending (and volunteering) at TheNextHOPE (@thenexthope), 16-18 July.
I'm really looking forward to my first real foray into a tech/hacker community, but don't really know what to expect. But I'm going to jump in anyway. The tickets are only $85, or $100 at the door, but if you register on-line, you get an awesome hackable RFID tracking badge.
Unfortunatly my partner (non-techie) has very little interest in going but I'm sure she'll enjoy the fashion district on her own (or with the girls).
Anyway, I threw my body in for volunteering , and within half a day, Nick Farr got back to me, so with a bit of luck I'll get to use my NOC and A/V experience for some good (and a free teeshirt!)
Some of the talks I'm really looking forward to:
And there is so many more that I want to go to that I know I'm going to have to miss, Everyone involved in the organisation has done far too good a job!
I'll hopefully have my hands on a decent camera so I'll try and document my first-timer experience as best I can.
See you on the other side!